SURPRISING SENSATION!
Sub180 Adventure Running Pack follows FITLY's focus on featherlight sensations (this time through the use of physics and design), high-end components and aesthetics.
The front of the Sub180 boasts 4 pockets, large enough for hydration, nutrition, your phone, etc.  The shoulder straps are wide and soft to disperse the weight and increase the feeling of snugness.
Two adjustable flexible sternum straps fitted with bilateral tube holders so access to just about everything you need on the run is by design.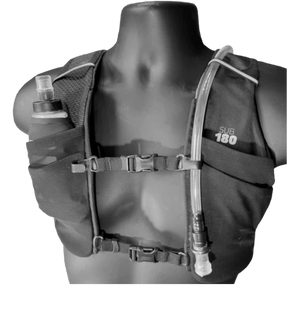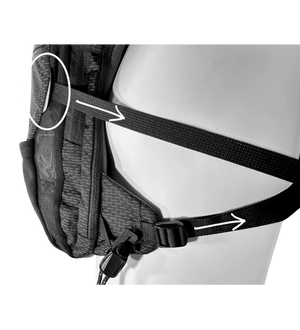 ANTI-SWAY TRIANGULATION
The silky soft upper webbing latches on to the back of the pack. The pulling forces push the pack and its load towards the runner's back drastically reducing the Left-Right swaying you can see in most every other well-filled running pack.
The increased friction also alleviates the shoulder straps' role as load bearers resulting in a feartheless sensation + increased comfort.  
HEAT DISSIPATION VENTS
Located at the top of the shoulders, the heat vents provide cooling where heat typically accumulates.
They were heavily tested in 90 deg Florida weather and they were welcomed! They also look mighty cool...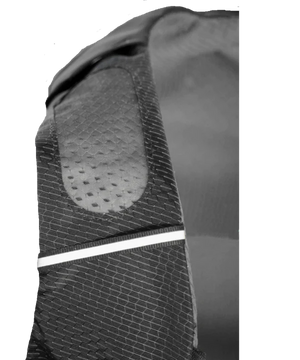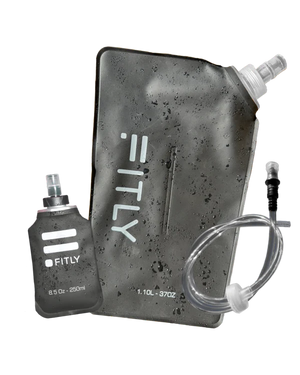 1.35L - OF LIQUID
Included with all Sub180: a 1.10 L - 37 oz ingeniously designed Low Profile soft bladder and a 250 ml - 8.5 oz - soft flask in the front pocket.  Contrary to traditional bladders, Sub180's custom bladder is super thin and malleable to fit your body contours. It shrinks as you drink, reducing sloshing and is so thin, it is barely noticable.
Also, the front pockets have small elastic strings to prevent soft flasks from falling down the pocket as they get empty.
WORLD PREMIERE: The bladder pocket is made with Tyvek, a light and strong technical fabric that reflects heat & cold keeping your liquid cooler or warmer 30% longer without the need for thick and heavy insulation!
MULTI-LAYER POCKET SYSTEM
A. Large Back Pocket: to carry the bulk of your load. Expandable through side-stretch panels when you need to fit a little bit more. The stretch panels also increase the pressure on the load to keep them from moving.
B. Full Length Pocket: zip close any longer objects. Call it the banana pocket!
C. Stretch Pocket: strechy catchall pocket.
D. Bladder Pocket: side access to insert or retrieve your bladder.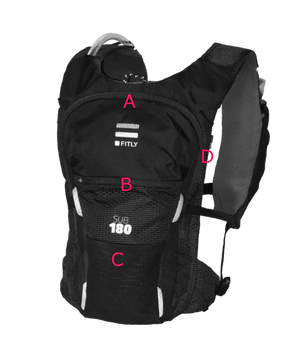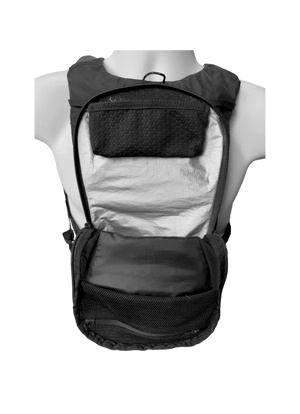 A MIGHTY 4 LITERS BACK POCKET
When compared to FITLY's previous packs, Sub180 has a massive storage capacity! The main pocket is made from a super resitant Tyvek panel on the inside and a weather resistant rip stop fabric on the outside. Definitely ready to stach all your running adventure accessories.
The side-panels stretch so the pack is thin when empty and expands when you need it.
HIGH-DURABILITY HONEYCOMB FABRIC
Using high tenacity fibers, FITLY's fabric is exceptionally durable and puncture resistant. 
The fabric is "best in class", used in high-end mountain guide equipment, made to endure the toughest conditions.
FITLY IS MADE TO LAST!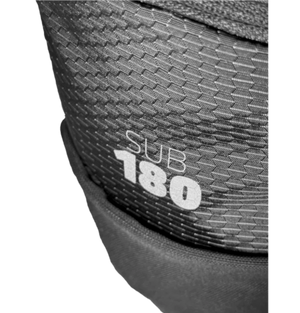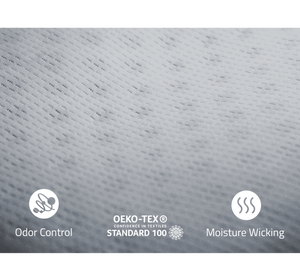 A nice touch of Green Innovation.
S.Café® is an eco-friendly (Cradle to Cradle certified) soft fabric that combines nylon yarns and recycled ground coffee at the cellular level. The fascinating benefit is natural odor resistance.  Green innovation is a win-win!  The S.Café® fabric also naturally cools your skin temperature down!
Sweat, drizzle, pouring rain, FITLY's 200% UltraWick is a techno-fabric that drains moisture and leaves you dry.  So soft, wear it on your bare skin!
Run, sweat, rinse, hang… repeat! 
Silent Zipper Tabs
FITLY is equipped with YKK special noise-free zipper tabs.  The tabs cannot move when you run so annoying ticking noise is impossible. 
NB: zipper maintenance is important.  Read our blog on the subject.
FITLY BLOG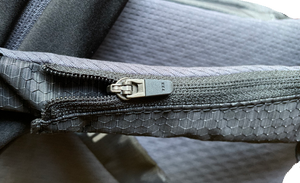 BE SEEN AND BE HEARD!
You'll find front and back safety reflective bands as well as reflective paint for all your night adventures
Attached with a small elastic string in the right front pocket is a micro-whistle. Small but mighty loud!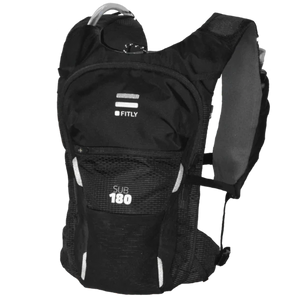 SIZING CHART
 XS - S = 66 - 79 cm
M - L - XL = 79 - 102 cm